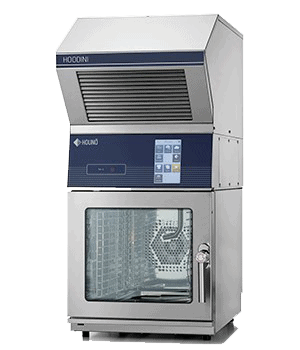 CombiSlim
CombiSlim 1.06 Hoodini
Electricity Compatible
Electricity only
6-tray combi oven (1/1 GN, 20/40 mm) or
4 tray combi oven (1/1 GN, 60 mm)
Injection steam
SmartTouch® interface
2-piece rack
Temperature probe
Est. 1977 Denmark
Full utilisation of a small kitchen area
CombiSlim ovens are ideal for small-scale food production
in take-away shops, cafés, gas stations, kindergartens etc. because of its unique size.
Unique size
With a measure of only 51.3 cm in with, a CombiSlim is small
in size but fit perfectly into all professional kitchens.
Same features,
maximum flexibility
It is small but effective. CombiSlim has the same features
as a large combi oven giving you maximum flexibility.
You have all the features needed in a smaller kitchen.
Electrical oven
•    Voltage : 3 NAC 400/415 V
•    Wattage: 8.4/ 9.2 kW
•    Power consumption: 14 A
•    Pre-fuse: According to local regulations
•    Water connection: 3/4″, outside
•    Drain: Ø40 mm, outside
•    Voltage: 208-240 V
•    Phase: 1
•    Frequency: 50/60 Hz
•    Rated current: 9 A (2.2 kW)
•    Tray / sheet size: 1/1 GN
•    No. of trays 20/40 mm in depth: 6
•    No. of trays 60 mm in depth: 4
•    Width: 514 mm
•    Height, table model: 1138 mm
•    Height, with stand: 1951 mm
•    Depth, table model: 1041 mm
•    Weight: 110 kg net / 125 kg packed
Cloud solution
Let's Cook
Work smarter with higher efficiency using the Let's Cook cloud solution. See how Let's Cook can be used to secure continuity on menu planning and reduce consumption on demand all within one platform.
Options for your combi selection